Curry
Coming directly from Indian curry, named kari in Tamil, this hot dish is a symbol of Reunionese and Mauritian cuisine. It comes with all kinds of ingredients: fish, seafood, meat or vegetables, and the variations are endless. One of the constants is the use of turmeric, a spice that gives it its beautiful orange color. Chicken curry is one of the most common. Once the poultry has been cut, the pieces are browned in a pot. Add the onions, spices and aromatic herbs, then the crushed tomatoes and let simmer to reduce the sauce. Curry is served over white rice, with red beans or lentils.
The blaff
Combining lightness and pleasure is possible with this seafood recipe typical of West Indian and Guyanese cuisine. The fish is simply marinated for two hours in spicy lime juice, then cooked in court-bouillon. His Creole name blaff could come from the noise produced by plunging it into boiling water. It is served with vegetables or white rice.
The torment of love
Emblematic of the Saintes, islands south of Guadeloupe, this tartlet could make you forget any torment of love and this is perhaps the origin of its funny name. It is said to have been invented by a fisherman's wife who yearned for her husband, who had gone to sea. It consists of a shortcrust pastry base topped with coconut jam and sponge cake.
Rougail
One of the great specialties of Reunionese cuisine is rougail (a loan from Tamil urukay), a condiment based on vegetables or even fresh fruit, herbs and chilli, for which there are a multitude of recipes: with tomato, mango, kaffir lime (a citrus fruit)… Less liquid than a sauce, its consistency is similar to Indian chutney. It enhances many meat and fish dishes, including curry, so the name rougail also applies to dishes containing this condiment. To avoid confusion, the people of Réunion distinguish rougail pestle (a condiment which owes its name to the stone utensil used for its preparation) from rougail marmite, a spicy stew cooked in a casserole dish. The sausage rougail remains the best known of the pot rougails.
The acras
Very widespread in the West Indies, this salty donut has an African origin, as evidenced by its name, a contraction of acara, a Yoruba term, a West African language. The recipe could have been imported by slaves who came to work in the islands. Also called marinades in the West Indies and Guyana, acras are most often prepared with dried cod, previously desalted and poached. Purists make the dumplings with fish, flour, water, yeast and herbs, without adding eggs or milk in order to obtain a light consistency. When fried, the acras are soft on the inside and crispy on the outside. They are served hot, as an aperitif or as a starter, sometimes accompanied by dog ​​sauce, another must!
Potato cake, vanilla flavor
There are no potatoes in this Reunionese specialty to be enjoyed at breakfast or as a snack, but sweet potatoes, hence its name. This cake is delicately flavored with bourbon vanilla (the island's flagship spice), but also with rum, and streaked with a fork before baking. Some gourmets garnish it with candied fruit.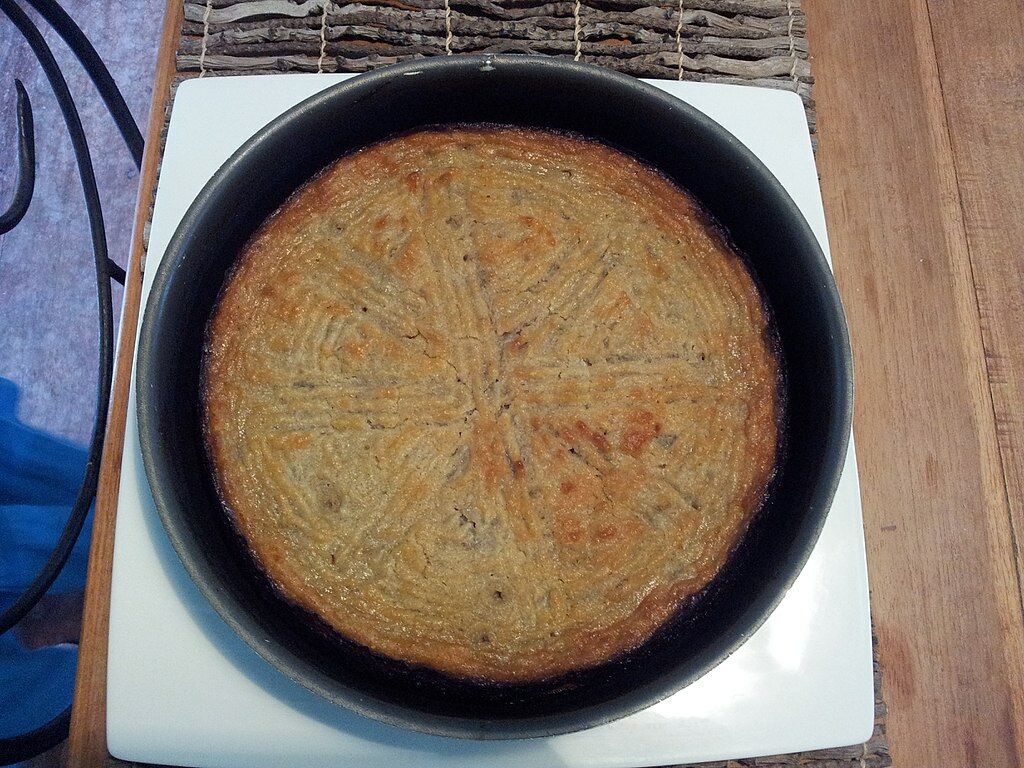 The bumped
This stew made from meat or fish and vegetables is emblematic of Kanak culture and more broadly of Melanesian cuisine. "Bougna" comes from "bougnats", a nickname given to the Auvergnats, some of whose missionaries came to evangelize the Pacific in the 19th century. Drizzled with boiling coconut milk, the bougna ingredients are placed in the heart of a large banana leaf folded tightly. The method of cooking this natural papillote is the Kanak oven. Everything is placed on hot stones heated over a wood fire and covered with leaves or bark. The bougna is stewed in this way for two to three hours.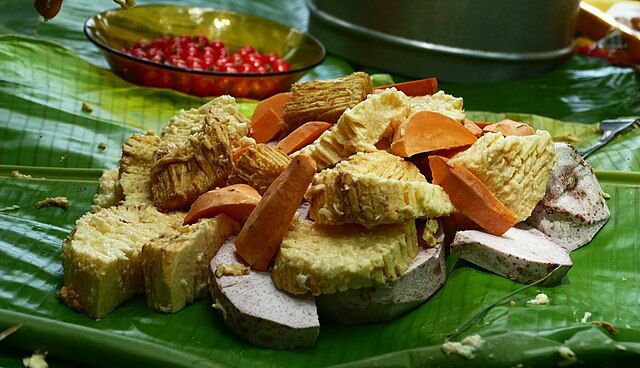 Read also :
⋙ Accras, dog sauce, blood sausage… All you need to know about star products from Overseas France
⋙ All about Caribbean cuisine
⋙ Creole cuisine: our easy and gourmet recipes
Article published in the issue Femme Actuelle Jeux n°203 of February 2022.