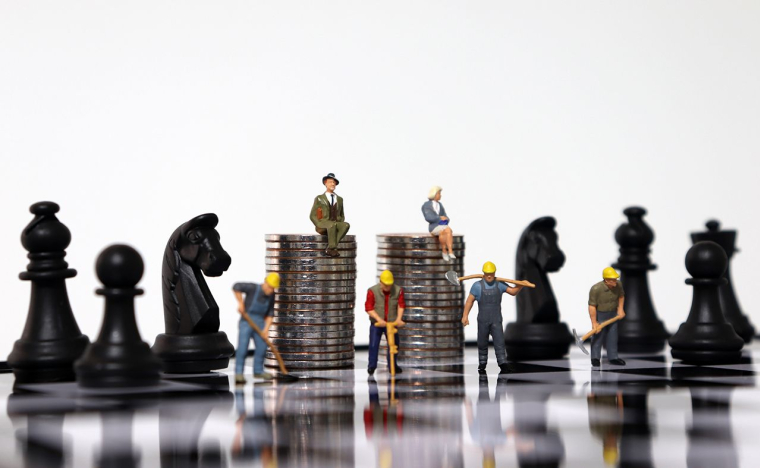 Artificial intelligence is particularly efficient in such an environment of profound changes. In fact, it is based on a mathematization of finance to read the hidden language of the markets as it reflects fundamental but often still hidden information. (Photo credits: Adobe Stock – )
The COVID crisis is creating an economic and financial paradigm shift. The investment strategies of the past 20 years (funds in Euros and passive 60/40 allocation) are no longer optimal for maintaining the purchasing power of a life insurance contract in the face of rising inflation. Artificial intelligence is a robust alternative to other asset allocation processes.

The current rise in inflation poses a major challenge to maintaining the purchasing power of life insurance contracts

Inflation rose again following the resumption of economic activity due to the success of vaccination campaigns. Production chains were reduced during the Covid crisis. Prices fell sharply due to the collapse in demand linked to the confinements. We are therefore currently witnessing a reflation which only reflects a return to pre-Covid levels.
Central banks managed to avoid a catastrophic economic depression by creating enough money to maintain nominal GNP and thus avoid the collapse of real GNP. Wages were paid through public deficits, thus saving the world from a terrible depression.
We can already say that the world is giving birth in the pains of the Covid crisis to a new economic paradigm. No one can already anticipate the structure of the next world since it is being built via the collective intelligence of Western democracies in the face of the growing threat of an Orwellized Marxist capitalism as it seems to be taking shape in China.
What scenarios for the World After?

We can already count a number of possible scenarios:
1. Inflation or reflation?

For some, central banks have already created too much liquidity. We are on the verge of a period of inflation that will undermine the purchasing power of retirees. You have to take refuge in gold and other real assets to protect your savings.


2. Growth or decline?

For others, the world is on the verge of a great collapse linked to the overexploitation of resources. We must get out of the growth models dating from the Enlightenment and return to a post-industrial economy that is more responsible for the environment, even if it means seeing the purchasing power of the middle classes continue to stagnate or even decline.


3. Roaring 20s?

Some see the real GNP of Western countries recovering from 20 years of economic stagnation and rising towards its potential long-term GNP (ie a catch-up of 15/20% of GNP!). New technologies will be able to take off following a rebalancing between Chinese "over-growth" and Western "under-growth" via a better allocation of Western savings.

No one can decide between these different scenarios. It is History in the making via the sum of individual and collective decisions that will bring about the emergence of this New World that awaits us.
What are the advantages of an asset allocation via artificial intelligence?

In such an environment of profound change in society, the economy and therefore finance, traditional fundamental analysis techniques are sometimes outdated.
Artificial intelligence then offers a robust alternative because it can capture the collective intelligence of the market

1. Greater ability to adapt to market paradigm shifts

Human intelligence tends to reproduce paradigms which seem to it to become immutable. Breaking points and inflection points as we are going through them are very difficult to rationalize and therefore anticipate insofar as they are based on the emergence of new structures.
By contrast, artificial intelligence is particularly efficient in such an environment of profound change. In fact, it is based on a mathematization of finance to read the hidden language of the markets as it reflects fundamental but often still hidden information.
Thus, the Evariste asset allocation models sold all equity positions at the end of February 2020 when the media and political consensus was that the Covid crisis was not worrying. This helped to avoid the 40% collapse of equities that followed and the drop of around 20% in asset allocation funds.
Asset allocation of a portfolio managed using artificial intelligence (Evariste 07). The risks were reduced before the Covid crisis. This made it possible to limit losses. The portfolio is currently quite defensive.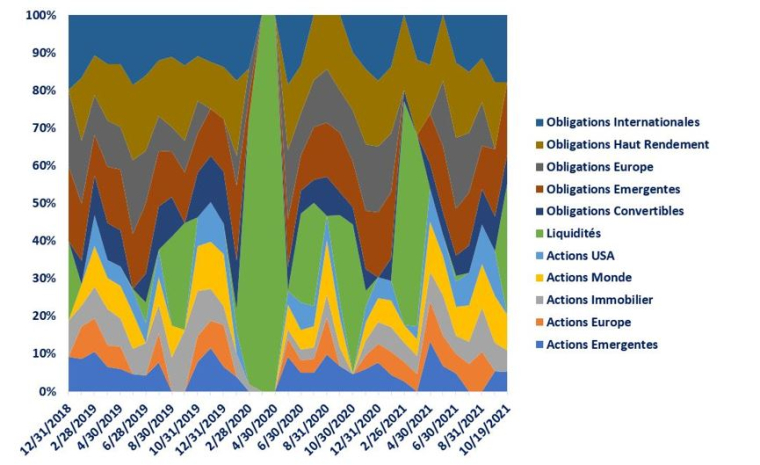 Source: Evariste Quant Research, Bloomberg. Past performance does not guarantee future performance. Bloomberg is not responsible for this analysis.
2. A greater capacity to manage a global allocation, necessarily more complex.

A second major advantage of artificial intelligence applied to asset allocation is that it makes it possible to broaden the investment universe at a global level. Many classic asset allocation managers have above all a bottom-up approach (based on the selection of securities and not of asset classes). They base their performance on their ability to select securities on equities or even credit or foreign exchange. These strategies can perform very well in certain market environments but remain subject to market contingencies which can lead to catastrophic consequences as shown by the problems of certain H2O funds during the Covid crisis of March 2020.
In contrast, an asset allocation fund managed using artificial intelligence makes it possible to invest across the entire global investable universe, in both stocks and bonds. This can be done either via ETFs on securities account platforms, or via funds via life insurance platforms. France is fortunate to have particularly efficient life insurance platforms. It is thus possible to invest in all global asset classes via pre-selected funds via insurers. These funds often outperform the indices to which the ETFs are linked.
What are the limits of asset allocation in life insurance via artificial intelligence?

1. Allocations are based on algorithms and not a human decision. Some investors are put off by seeing an asset allocation defined. However, it must be admitted that the markets often react BEFORE a new fundamental is really known. Thus, the massive sale of assets before the Covid crisis did not correspond at all to the global consensus on the crisis. Similarly, there are sometimes changes in trend that cannot be explained by decisions by central banks that have not yet been made public (acceleration or reduction in their bond purchases, for example).
2. You must always have tested the algorithms used to ensure that their efficiency is not only theoretical but also practical. This is why the existence of real auditable tracks showing real performances is very important.
3. Transaction costs can be significant. Active asset allocation management can generate numerous orders, especially during periods of market instability. These transaction costs can strongly impact the gross performance of the model portfolio. This is especially true for securities accounts. Transaction fees combine the spread between the bid price (often around 10 bps) and ask price, the broker's costs (around 10 bps), and finally the management fees of the ETF (often between 20 and 40 bps ). On life insurance, there are often no costs because they are included in the operating costs of the contract (around 50/60 bps). Only fund management fees remain, but often the active funds selected by insurers show a real ability to beat indices after fees.
What results compared to other life insurance investment alternatives?

We can distinguish three main investment alternatives in life insurance:

1. Euro funds. These funds have long been the flagship investment in life insurance. They remain essential to replace monetary funds and invest liquidities in an untroubled period of the market. They are exposed to a certain systemic risk rightly highlighted by the Banque de France and insurers.
In addition, the expected performance decreases each year (around 1.2% for 2020, probably even less in 2021), while inflation increases (objective reaffirmed by the ECB to have 2% inflation over the medium term) .

2. Passive 60/40 asset allocations. Many wealth management advisors do not want to take on the business risk of active asset allocation. They therefore offer a stable allocation of 60% in bonds and 40% in equities.

3. Active asset allocation funds. There are a number of asset allocation funds out there. Each type of fund has advantages and disadvantages.
Comparative performance of a portfolio managed using artificial intelligence (Evariste 07) and a passive asset allocation of 60% in European bonds and 40% in European equities. We observe that the performance is much more stable. This makes it possible in particular to limit losses during crises such as the COVID crisis of March 2020.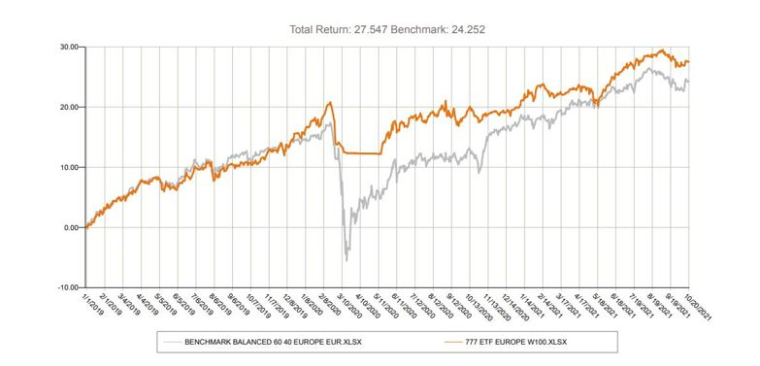 Source: Evariste Quant Research, Bloomberg. Past performance does not guarantee future performance. Bloomberg is not responsible for this analysis.
Conclusion

Artificial intelligence is still little used in France for active asset allocation. However, it offers many advantages over passive asset allocation (60/40 allocation) and traditional active management (flexible funds).
The Covid crisis greatly complicates investment work because of the major questions about the nature of the world after the Covid crisis. Asset allocation via artificial intelligence makes it possible to complete traditional management by adding a robust dimension that is often uncorrelated with traditional managers.
---
This article is for informational purposes only and does not constitute an offer for products or services, nor an offer, recommendation or solicitation of an offer to provide investment advice or services to buy/sell instruments. financial.

François d'HAUTEFEUILLE – Evariste Quant Research – Member of the Circle of Independent Analysts

.