Born and raised in France, the young Franco-Vietnamese woman Huynh Khanh Ly became champion of the "MasterChef France 2015" competition thanks to the combination of flavors from both countries in her dishes.
>>The menu of culinary specialties offers a Vietnamese record
>>Taste of Australia 2022 in Vietnam, here we go!
Huynh Khanh Ly managed to impress the jury in the "MasterChef France 2015" competition.
Huynh Khanh Ly was born in 1991 in France to Vietnamese parents. Despite studying law and management, Khanh Ly has become one of the quintessences of French cuisine after winning the "MasterChef France 2015" competition. She then turned to cooking and followed a specialized training in catering and management at the Académie Paul Bocuse – a prestigious school in Lyon.
After the success in the competition, she published the cookbook in 2016 with 45 recipes I become Chief! to attract fans who share his passion for food. Thanks to this book, Huynh Khanh Ly received a lot of love and support.
Vietnamese flavor is popular in France
Being of Vietnamese origin, it is normal that Khanh Ly has forged a special bond with Vietnamese dishes thanks to the dishes of her mother during family meals and that the young woman has also inherited some of her culinary skills.
"I grew up with Vietnamese food. My parents like to cook and they opened a restaurant in France. They have always liked to cook with fresh ingredients, not with frozen ingredients like the Europeans. From an early age, I rolled my first spring rolls with my mother. I grew up with flavors of familiar Vietnamese dishes such as +pho+, +bun bo+, +banh cuôn+. It's my culture. As for French dishes, I learned them while cooking with friends. The +pho+ is a specialty of Hanoi. My mother and my sister like to eat it, but I prefer +banh cuôn+ and +bun bo+", shared Khanh Ly with the newspaper VOV5.
The culinary journey of the young woman seemed complicated and difficult to break through. However, with her efforts and her constant creativity, the young chef with a law degree has allowed many Vietnamese and people from all over the world to discover her wonderful cuisine.
Unexpected success
During the "MasterChef France 2015", Khanh Ly easily defeated many competing chefs. In an article in the VOV5 newspaper, she said: "In MasterChef, I don't really cook a Vietnamese dish because it's a French cooking competition. However, I was inspired by Vietnamese dishes. I created recipes using Vietnamese cooking techniques combined with those of French cooking. In addition, I also used many Vietnamese ingredients such as lemongrass, ginger, pepper, cinnamon".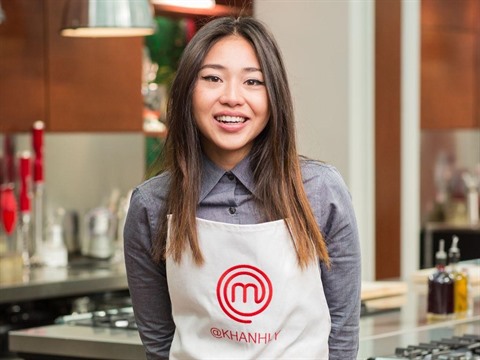 Huynh Khanh Ly, winner of the MasterChef France 2015 competition.
Photo: HKL/CVN
According to the young Frenchwoman of Vietnamese origin, putting Vietnamese flavors into French dishes allowed her to create a unique characteristic and impress the jury. From the simplest and most original Vietnamese ingredients, and with the combination of the two cuisines of Asia – Europe, Vietnam – France, the audience and the jury were able to see the sophistication in the cuisine and the talent of the young woman.
After becoming the champion of "MasterChef France 2015", Huynh Khanh Ly pursues several projects that she held dear.
His first book I become Chief! is geared towards using typical Vietnamese ingredients, proving how much of a lover she is of Vietnamese cuisine. Vietnamese ingredients and cooking style mixed with French cuisine, this is the way of Khanh Ly. The latter said that one day she will publish many books on cooking and that she wants to allow readers to discover more about food with good dishes.
Ambassador of Franco-Vietnamese culture
As a person related to Vietnamese cuisine and always wishing to preserve and develop national values ​​from the country's specialties, the young chef constantly introduces Vietnamese dishes to the world, and at the same time contributes to the promotion of tourism in Vietnam, helping foreign tourists to enjoy Vietnamese flavors and get to know this beautiful country.
She first went to Vietnam in 2014 and returned in 2017 to participate in a number of activities including University of Languages ​​and International Studies (ULIS) under Hanoi National University, where she interacted with students who intend to study in France and have an interest in cooking. On the occasion of the "Goût de France" event organized by the French Embassy in Hanoi, she was the main chef participating in the event.
Representative of the younger generation, Huynh Khanh Ly has brought success to her life. In addition, she is also a representative of French-speaking women, who succeeds and contributes to Franco-Vietnamese exchanges in the culinary arts.
Nguyen Van Anh/CVN
("Young Francophone Reporters 2021" competition)
.